Discover more from The Rabbit Songs Newsletter
Initially made this newsletter to talk about songs I like on regular basis but I think it's starting to evolve into more than that.
UNLEASH THE RABBIT #2
PATCH #2!!!!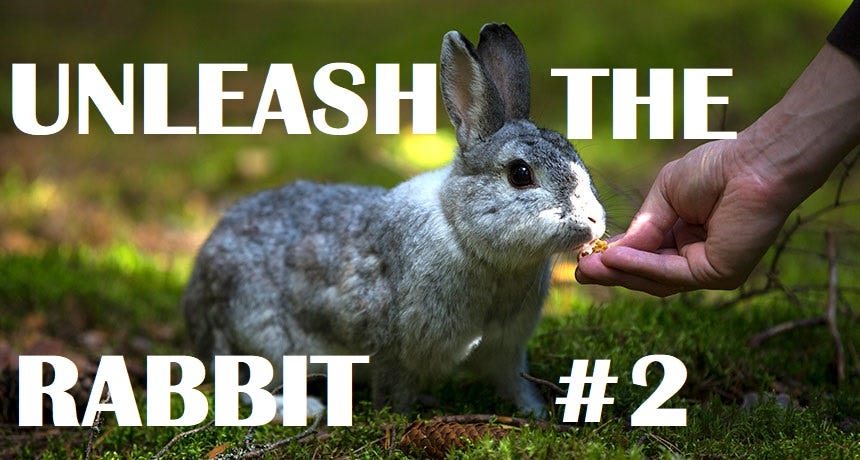 So, a few weeks ago when I asked people to talk about music they love and send me what makes them love these songs, five wonderful people sent me submissions for five different wonderful songs. So this is the second wave of submissions I got.
Rafiq Mahfouz tells the story of how one song shaped an important period of his life and why that song made sense for him then and still makes sense for him now when he writes about the ever-beautiful CALL ACROSS ROOMS by Grouper
"It's a letter I wrote for someone I loved and could not get along with (...) a letter to myself, as aspiration to love better." 
On October 29, 2014, two days after the release of the album Ruins, I came across this track, and the world I used to know just vanished. A week later was the worst break up one could ever live to witness, an evitable ending that has been coming for a while, and that's exactly the song theme. 
Turning circle has always been humans' favorite nihilistic lullaby, not consciously choosing it, but more likely that they lack the options or the guts to face the unknown. 
What always fascinates me about Liz Harris is how she uses the surrounding spaces, chambers to simulate an inner feeling of hollowness, recalling memories of desolation, losing a loved one, and how her vocals are one little detail of a much wider art scenery that carries so many layers within. 
Harris recorded this song and the whole release seven years ago, during her arts residency in Portugal. This time around it was only her, with this grief in her chest, sitting at an upright piano. It was all recorded through the same microphone using a portable 4-track. 
Harris radicalizes the use of her vocals by obscuring them beneath heavy layers of secrecy, mirroring and a sense of vicious hollowness intensified by fading through the echoes of the piano ballad. Her lithe cryptic whispers soak me with a deepened longing for something that never came, manipulating me into reeking isolation. 
"I've a present to give you when we finally figure it out / Funny that we still haven't figured it out / How we're still turning circles"
The song starts with their state of wandering, not being able to put the end of their love into terms so that they can process and move on. 
And because their wandering state is just turning circles, they're not going anywhere, and Liz isn't even sure they will figure it out, that's why exactly it ends vaguely where it started:
"And maybe we'll figure it out / And then I can give you my letter / Scatter the glass in the hallway / Call across rooms with the echo".  
With such ethereal, melancholic, elegiac tones of composition, mourning the remnants, the ruins of a love that used to bloom.
To read more of my wonderful friend Rafiq's perfectly-written and really-detailed writings/publications (and you really should do that) please check his website rafiqmahfouz.com
---
Anonymous #1 writes about the wonderful trip he gets on while listening to the dreamlike LADIES AND GENTLEMEN WE ARE FLOATING IN SPACE by Spiritualized
"Ladies & gentlemen, we're floating in space." I loved this opening line from the first time it hit my ears and been engraved in my brain since. A perfect opening that prepares you for the absurd yet to come on the record as a whole. and with the first words Jason Pierce sings, I'm no longer in my room, and with it's hypnotic effect, I'm no longer on Earth. I'm swimming in deep space drifting across the stars. and I think to myself: this can't be from this world, it must be really from outer space. the lyrics are pretty much straightforward yet they are wonderful and unique. it even gets better with one of the most beautiful songs ever: Presley's CAN'T HELP FALLING IN LOVE WITH YOU alongside the original lyrics. But my favourite verse is the last one when it reaches its climax and I honestly didn't recognize what I'm hearing at first, I just felt ecstatic.
"Life don't get stranger than this / It is what it is / And I don't know where we are all going"
Unsurprisingly the album was recorded shortly after Jason Pierce's breakup with the band's ex-keyboard player Kate Radley, so now you know where it came from. 
A comment on Youtube perfectly summarizes how you'll feel during listening to it "wanna fall in love just to relate to this song." Then the album art is perfectly suiting, it's a drug package as Spiritualized treats heart and soul.
---
Riham 'Pixie' Bahgat tries to figure out how guilt works and the effectiveness of it —if exists, and writes about the heart-wrenching
GUILTY PARTY by The National
Guilt is one of the most profound human emotions one can go through. It is capable of swallowing a person whole. It can neither be rationalized nor fought off. Matt Berninger explores, as he stated "the fictional dissolution of his marriage" in the single "Guilty Party". He co-wrote it with his wife, which makes its concept all the more brilliant. The two of them are collectively depicting the aftermath of their relationship's ending.
Post-breakup pain can be gut-wrenching. The one person who is capable of consoling you was the reason for the pain that was inflicted in the first place. Initially, we opt for blaming and demonizing the person we once thought the world of just to make sense of this crippling loss.
"Guilty Party" defines a later stage of rationalizing this loss; the stage where a vital conclusion is reached. Blame is easy and comforting. What is difficult is acknowledging that you actively took part in the demise of a once beautiful dream. The song showcases the idea that human connection is inherently flawed. Due to our consciousness' limitations, you will never be capable of entirely understanding another person, even a person that you genuinely love and care for. They will be standing there yelling at you for all your shortcomings, screaming about how you crushed their heart, and irreversibly ruined them. Yet, you will feel at loss about how you two managed to get here. Everything about you two suddenly feels hopeless and irredeemable. Words of reconciliation feel meaningless and are blocked by an immovable wall that gradually yet surely formed between the two of you. These limitations of human connection accumulate with every passing act of negligence and hurtful comment spoken between you and your partner, until they slowly decompose everything you two once held dear.
Throughout the song, Matt's voice sounds noticeably defeated and stained with utter resignation to some devastating facts: No party is to blame here. There is nothing that can be done or said to revive what we once had. The damage is already done. I am sorry I am not the easiest person to be around. I am so sorry for my shortcomings, and I know you are sorry for yours as well.
We will never fully grasp the other party's view. What we can only have of them are fragments of their intentions, burdens, and thoughts. We can only hope that someday a partner's fragments will be solid enough to weather the storm of what constraints human relationships. In case of failure to do so, we grieve and mourn, and lose yet another piece of ourselves to another partner. Down the line, due to nostalgia, the scab of every failed relationship will fall off every now and then, but fortunately, it will never hurt as much as the original wound did.
---
Tarek Aboel Makarem (me) tries to figure out what makes him like some songs and writes about the hard-hitting YOU LET MY TYRES DOWN by Tropical Fuck Storm
Sometimes you listen to a song that you immediately like and also immediately know precisely why you like it, sometimes you like it a lot and two weeks later you still can't really figure out why you like it. Sure the song is very well made and the instruments are wonderful but do we ever like songs because of their technicalities? Or do we crave what these technicalities, these instruments and these voices induce and carry in between them? I genuinely don't believe we think of music in terms of technicalities only, I don't really believe that's how we consume music at least. Since we aren't in music school and we don't have a very shitty music reviewing youtube channel named theneedledrop either.
YOU LET MY TYRES DOWN made me ask all these questions and finally reach the above conclusion.
In a Starbucks on a Sunday at 9:30 am, I finally figured what I really like about YOU LET MY TYRES DOWN and what makes it so special for me; YOU LET MY TYRES DOWN is a very bold and a very "tough" song , a song made to blow you off your feet, a song that will leave you with a very strong need to shout, a song that will make you scream while running on a treadmill in a crowded gym with bad air circulation, just because you need the energy this screaming will give you and this song is pushing you to scream, this song will make you walk abnormally quickly when you aren't in any rush.
The song induces this feeling we all have at different levels, being fed up with something(s) frustrating around you, it's not an easy listen, not a happy song, in fact it's very upsetting when you actually listen to the lyrics, it doesn't get its energy and its boldness from being energetic and upbeat, it gets its boldness from being very true to its reality and naturally being very angry as a result. The imagery through the whole song is emphasizing this sad and frustrating reality they are in and not holding anything back.
"Oh, but then I grew up around her family / and they were such a bunch of losers / anchored to each other / on a sea of vodka cruisers"